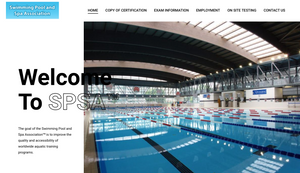 BECOME AN SPSA PROVIDER TO OFFER PO CHALLENGE COURSE
The Swimming Pool and Spa Association has earned its reputation as one of the leading certification agencies, focusing on precision and efficiency in delivering top-tier services. Here's a glimpse into our seamless certification process post your annual Provider Agreement fee payment:
Access to Reference Materials: We promptly send links to critical reference materials that your students must review and understand thoroughly.

Proctored Online Exam: Once prepared, students are required to undertake the proctored online exam, supervised directly by you, ensuring integrity and compliance.

Instant Roster Submission: Course completion rosters are automatically submitted online, expediting the certification processing.

Same-Day Certification Processing: We endeavor to process and validate the certifications on the same day of course completion, streamlining the overall experience for both provider and students.

Snapshot and National Verification: Each provider receives a PDF snapshot of every certification card, and student information is immediately listed on the national verification site Universal Certification.
Our process is designed to be swift and user-friendly, aiming to provide immediate validation and verification, contributing to the credibility and reliability of the certifications awarded.
All groups of 10 or more cards will be Federal Express the same day at no additional cost with a tracking number. All others will be processed and placed in the mail the next business day.  The student fees will be reduced from $250 per student to only $75 per student by becoming a provider.
It is the provider's responsibility to ensure the candidates have access to a computer or tablet at the provider's location. This can be accomplished by either allowing the candidate to bring their personal computer, tablet, cell phone, or one is supplied by the provider. Group testing is allowed as long as each individual has their own ability to access the online exam. 
No advance notice of testing is required, and the certification cards will be processed the same day of receipt of the exam results. The successful grade will automatically be emailed to SPSA to process the certification cards. Upon receipt of the student's results, an email will be sent to both the provider and student's email address with an attachment of a copy of their actual certification card. Besides, a waterproof wallet card will be sent directly to the provider's address the very next mailing day. Both certifications may be used as proof of completing the Swimming Pool and Spa Association PO Challenge Certification program and will be valid for a term of three years. 
The exam is a timed 50-question multiple-choice test that candidates may take up to one hour to complete. The proctor must ensure that the candidates take the exam on their own, are not given any answers or direct help during the term of the exam, and do not use any notes, reference guides, or online material. The exam is a closed book, and no one can assist a candidate by giving him or her specific answers during the exam. 
Candidates must pass with a grade of 70 or higher in order to receive their swimming pool operator's certificate. If candidates do not pass, there will be no charge for the exam, but they must wait at least 24 hours before trying to retake the exam. The exam is offered only in English, and no reference to language dictionaries is allowed. 
The tester will need to show a proper photo ID, such as a driver's license, school ID, passport, or similar photo ID, to the proctor, and candidates must be 16 years of age or older to take the exam. 
If any provision(s) of this Agreement shall be determined to be void, ambiguous, or unenforceable, the same shall be stricken from this Agreement and in no way shall affect other provisions of or the validity or enforceability of this Agreement. The Parties understand that the contents of this Agreement are confidential and that disclosure of it to any third party could be detrimental to one or both parties' interests. Therefore, the Parties agree not to disclose the terms of this Agreement without the other party's prior written permission, other than to business advisors, legal, and financial representatives. 
This Agreement constitutes the parties' entire agreement and cannot be altered or modified except by an agreement in writing signed by both parties. Upon its execution, this Agreement shall supersede all earlier negotiations, understandings, and agreements, whether oral or written. Such prior agreements shall thereupon be null and void and without further legal effect. 
The Provider shall indemnify and hold the Swimming Pool and Spa Association, Inc. and each of its directors, officers, employees, agents, and Affiliates harmless from and against any and all claims, actions, suits, proceedings, losses, damages, and expenses (including, without limitation, reasonable attorneys', consultants' and experts' fees) (collectively, "Claims") arising out of or relating to any inaccuracy or breach of ALA's representations, warranties, covenants or any claim or action for products liability, personal injury, death or other cause of action arising out of or in connection with this Agreement, including actions based upon negligence of ALA under this Agreement. The Provider shall maintain at its own expense a comprehensive general and liability insurance with aggregate limits no less than $1,000,000. 
Suppose any term, covenant, condition, or provision of this Agreement or the application thereof to any person or circumstance, shall to any extent be held to be invalid, illegal, or unenforceable in any respect. In that case, the remainder of this Agreement, or application of such a term or provision for a person or circumstance other than to those as to which it is held invalid, illegal, or unenforceable, shall not be affected thereby. Each term, covenant, condition, or provision of this Agreement shall be valid and shall be enforced to the fullest extent provided by law. This Agreement shall be governed by and construed in accordance with the laws of the State of Virginia. 
At any time, without notice, for any or no reason, the Swimming Pool and Spa Association, Inc., reserve the right to refuse service to anyone, to modify and discontinue any portion or all of this agreement, and to restrict, suspend and terminate this authorize provider agreement. 
If you have any questions, we ask that you email us at poolandspaassociation@yahoo.com.