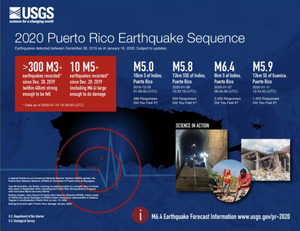 DONATE TO PUERTO RICO EARTHQUAKE VICTIMS! ALL PROCEEDS GO TO GLOBAL LIFEGUARDS A 501(C)(3)
Magnitude 5.0 earthquake

Affected countries: British Virgin Islands, Dominica, Saint Martin, Sint Maarten, Guadeloupe, Montserrat, Puerto Rico, Saint Kitts and Nevis, U.S. Virgin Islands, Caribbean, Netherlands, Saint Barthélemy, Antigua and Barbuda, and Anguilla
4 km from Guayanilla, Puerto Rico · Jan 25, 21:20
By Associated Press
January 25, 2020
A 5.0 magnitude earthquake hit southern Puerto Rico on Saturday at a shallow depth, raising concerns about unstable infrastructure in a region that has been hit by quakes every day for nearly a month.
The newest quake comes a day after hundreds of people in the island's southern region were evacuated from earthquake shelters that flooded after heavy rains hit the U.S. territory. In the coastal city of Ponce alone, more than 350 people on Friday were moved back into a school that served as the initial shelter when the ground first began shaking, Angel Vazquez, the city's emergency management director, told the AP.
FULL STORY: NBCNews.com
The American Lifeguard Association has feet on the ground with our Puerto Rico Chapter to help the American Lifeguard Association of Puerto Rico
We ask that you donate today!  We have placed a minimum donation of $10. All proceeds will go directly to Puerto Rico Earthquake victims through our affiliate Global Lifeguards, Inc., which is a 501(c) non-profit organization.
GLOBAL LIFEGUARDS, INC is endorsed by The American Lifeguard Association and affiliated with the President's call to service, USA Freedom Corps and The American Safety and Health Institute, Global Lifeguards is a not for profit volunteer organization dedicated to uniting volunteers worldwide, promoting health and safety, education and communication. Trained volunteers learn to recognize hazards and the significance of activating the public safety system. Volunteers are also encouraged to save lives through CPR, First Aid, and other related Health and Safety programs. We encourage worldwide participation from individuals, existing volunteer organizations and programs, while also seeking participation from police, fire, emergency medical, lifeguard, park services, security, and other public safety agencies.