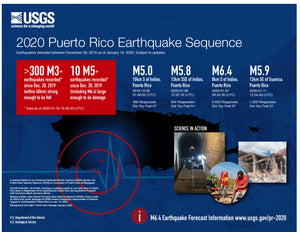 Donate to Puerto Rico Earthquake Victims. Proceeds go to Global Lifeguards a 501(c)(3)
Quake-stunned Puerto Rico hit by another 5.9-magnitude shock.
NBC MIAMI NEWS

Published at 8:44 pm on January 18, 2020
A magnitude 4.1 earthquake has rocked Puerto Rico Saturday night.
In a tweet by the Puerto Rico Seismic Network, No warning or Tsunami watch is being issued for the island.
This most recent quake comes just a week after a 6.4 magnitude earthquake left businesses and schools in rubble.
ADDITIONAL STORY:  https://www.nbcnews.com/news/latino/quake-stunned-puerto-rico-hit-another-6-0-magnitude-temblor-n1114021
The American Lifeguard Association has feet on the ground with our Puerto Rico Chapter to help American Lifeguard Association of Puerto Rico
We ask that you donate today!  We have placed a minimum donation of $10. All proceeds will go directly to Puerto Rico Earthquake victims through our affiliate Global Lifeguards, Inc., which is a 501(c) non-profit organization.
GLOBAL LIFEGUARDS, INC is endorsed by The American Lifeguard Association and affiliated with the President's call to service, USA Freedom Corps and The American Safety and Health Institute, Global Lifeguards is a not for profit volunteer organization dedicated to uniting volunteers worldwide, promoting health and safety, education and communication. Trained volunteers learn to recognize hazards and the significance of activating the public safety system. Volunteers are also encouraged to save lives through CPR, First Aid, and other related Health and Safety programs. We encourage worldwide participation from individuals, existing volunteer organizations and programs, while also seeking participation from police, fire, emergency medical, lifeguard, park services, security, and other public safety agencies.