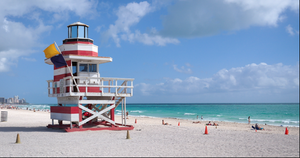 American Lifeguard and Safety Training™ Aquatic First Responder Certification with CPR and First Aid for Beach Patrols
We want to welcome you to the American Lifeguard Association® certification program. It is essential that you read this entire information for your instructions on how to enroll and complete the training.
All our programs require that employers meet the new Model Aquatic Health Code (MAHC) requirement to conduct pre-service evaluations and in-service training with all staff members. In addition, the documentation verifying the pre-service requirements by the employer is to be maintained at the facility and be available for inspection. The American Lifeguard Association is available to work with employers who request assistance in helping with the program's evaluation to meet these new standards.
The American Lifeguard and Safety Training™ is a trademark of the American Lifeguard Association® health and safety courses. The American Lifeguard Association has been offering lifeguard training for over 30 years and has trained over 250,000 individuals worldwide. The US Labor Department has determined our lifeguard programs are equivalent to the American Red Cross training program.
We offer nationwide training year-round. With our national certification program, you can start your training at any time and complete it right away! Enrollment into the current program may be done on any of the above-listed dates. After enrolling, you can complete your certification program in as little as a few days or a weekend; you can feel free to go at your own pace.
It is necessary to purchase our national training program before starting. After reading the instructions provided below on how to complete the certification program, the next step is to enroll. To do so, select "ADD TO CART" to pay the registration fee.
We offer a 30-day money-back guarantee on all our national certification programs, so there is no reason not to start today!
The American Lifeguard Association is a national educational association with the full support of both the Swimming Pool and Spa Association and Global Lifeguards, a nonprofit 501(c)(3) organization. These organizations are members of the Global Lifeguard Association, which make up one of the largest worldwide aquatic consortiums.
Over the years, the Lifeguard certification has brought about specific legal requirements that the individual must respond to an emergency and is therefore not covered under the Good Samaritan Laws. Because of this, many aquatic facilities such as pools, lakes, and beaches may have attendants who are not trained Lifeguards. These individuals who are called pool or beach staff normally have no training as to what to do in case of an emergency even though the public may think they know CPR and other Lifesaving skills. We have created a new area of certification where the program will teach you the same skills that Lifeguards are taught, but because you are not legally bound to respond in an emergency if you do so your actions will normally be covered under the Good Samaritan Laws. Many aquatic areas do not require a Lifeguard, but they do have someone attending to the patrons, whether it is assisting a guest with obtaining a towel or moving a lounge chair or setting an umbrella up on a sandy beach. Even though the attendants are not required to know how to respond to an emergency, we feel it would be best for both the individual and the employer to have them trained and certified.
You may be any age to take this program, but US Labor Laws require that you must be at least 16 or older to be employed in this position. We feel this certification will improve your ability to obtain a position at an aquatic facility with a fun and rewarding summer or year-round job at some of the best locations to work at worldwide and to be able to serve the general public better.
Steps to complete your American Lifeguard Association program:
Review all video clips and online materials
Once you register, we will email you the links to our online training videos and exam. There is also a link to an online Lifeguard manual with CPR/AED and First Aid information. You need to be familiar and able to perform the skills shown.
After you have reviewed the videos and additional online materials and are able to accomplish your skills, you will need to go online and take the final written exam. Successful completion of the final exam requires a score of 80% or higher. You may review your online material if needed at any time. There is no time limit to take the exam, but it must be taken at one time for you cannot leave the exam and return where you left off. If you leave the exam, you will need to start it over until completed. If you do not receive a passing grade, you can retake the exam until you pass at no additional fees. Upon successful completion of the exam, you will receive a full printout of your exam score along with the correct answers to any questions you may have gotten wrong. We require that you look over your exam results to help ensure you know all the right answers.
You will receive an email confirming your successful completion of the program, and your records will be placed in a national verification system the same day you complete the above steps. The verification system allows your validated certification to be viewed by employers and health department officials. We request that once you receive this official email that you print out a copy of your American Lifeguard Association certification directly from this national verification system. In addition, a waterproof, wallet-size certification card will be mailed to you the next business day. The purpose of the ALA training program is to teach candidates the knowledge and skills needed to help prevent and respond to aquatic emergencies. As with all certifications, employers need to ensure that each candidate has all the skills, knowledge and requirements for the position for which he or she is being hired.
You are encouraged to check with your healthcare professional before participating in the practice sessions. If a medical condition or disability exists that might prevent participation in the activities, or there are questions about fully participating in the course, please contact us by e-mail to discuss this before the course begins.
Aquatic First Responders are essential for helping to keep aquatic facilities safe. Unlike most other professional rescuers, they are present to prevent emergencies from occurring. Injury prevention is a primary focus. Therefore, the program teaches how injuries occur and how they can be prevented. We will also teach proper surveillance, prevention, and victim recognition information.
Aquatic First Responder course participants will review:
SWIMMING SKILLS
If you can answer yes to the following questions about the swimming test, you will pass this portion of the Aquatic First Responder certification requirements.
Can you swim for 500 yards without stopping using the Front crawl (freestyle).
Can you pass a test in which you retrieve a weight at a depth of 7 feet of water? You can do this within the 1 minute, 40 seconds time limit? It begins with you in the water. You must swim or walk for 20 yards. Then you must "rescue" a 10 lb. weight that is 7 ft. below the water's surface. Once the weight is retrieved, you must swim or walk back to the point where you started (a distance of 20 yards).
RESCUE SKILLS
Slide-In Entry
Stride and Compact Jumps
Rescue Approach—Front Crawl or Breaststroke
Simple Assist
Extension Assist from the Deck
Reaching Assist with Equipment and
Throwing Assist
Swimming Extension Rescue
Active and Passive Drowning Victim Rear Rescue
Two-Person Removal from the Water
Using a Backboard
Passive Submerged Victim—Shallow Water
Multiple-Victim Rescue
Feet-First Surface Dive
Submerged Victim—Shallow Water
Front and Rear Head-Hold Escape
CARING FOR HEAD, NECK OR BACK INJURY SKILLS
Manual In-Line Stabilization for a Head, Neck or Back Injury on Land—Lying
Down, Sitting or Standing
Using a Backboard for a Standing Victim on Land
Head Splint Technique—Face-Up Victim, Shallow Water at or Near Surface
Head Splint Technique—Face-Dow Victim, Shallow Water at or Near Surface
Head and Chin Support—Face-Up Victim, Shallow Water at or Near Surface
Head and Chin Support—Face-Down Victim, Shallow Water at or Near Surface
Head Splint Technique—Face-Up Victim, Shallow Water at or Near Surface
Head Splint Technique—Face-Down Victim, Shallow Water at or Near Surface
Head and Chin Support—Face-Up Victim, Shallow Water at or Near Surface
In-Line Stabilization for a Submerged Victim—Face-Up, Face-Down or on One Side
Using a Backboard in Shallow
CPR/AED FOR THE PROFESSIONAL RESCUER SKILLS
Removing Gloves
Initial Assessment
Rescue Breathing—Adult, Child and Infant
Using a Bag-Valve-Mask Resuscitator—Two Rescuers
Conscious Choking—Adult, Child and Infant
Unconscious Choking—Adult, Child and Infant
CPR—Adult, Child and Infant
Two-Rescuer CPR—Adult, Child and Infant
Using an AED—Adult and Child
FIRST AID SKILLS
Secondary Assessment
Controlling External Bleeding
Applying a Sling and Binder
Applying an Anatomic Splint
Applying a Soft Splint
SKILL SCENARIOS TO BE ABLE TO DEMONSTRATE
Final Skill Scenario 1—Active Drowning Victim
Final Skill Scenario 2—Submerged Passive Drowning Victim
Final Skill Scenario 3—Head, Neck or Back Injury.
National standards require that all employers test each candidate to ensure they possess the required skills. Employers should also further their staff training through in-service programs to help increase their ability levels. At any time during employment, a staff member should be able to demonstrate her skills to show proficiency. It is therefore important, even after you complete our program, that you continue practicing your skills and work always to improve them.
There is nothing more important than learning how to save a life, and nothing more rewarding than knowing you did all the right things in saving a life. Practice makes perfect. Being alert, being a professional, and being on top of your skills at all times can help save lives!
If you wish to enroll and start your training right away, we ask that you click the "ADD TO CART" button. Once you have made payment, we will send you a confirmation email with instructions on how to complete the national certification program. Remember that we offer a 30-day money back guarantee, that if for any reason you are not satisfied, you need only to email us and request a refund.
If you have any questions that we may assist you with, or any problems completing the program, please email us at alalifeguard@aol.com. We monitor our incoming emails 24/7 and typically respond to inquiries within just a few minutes.
Click on "ADD TO CART" at the top of the page to register.
Alabama  Alaska  Arizona  Arkansas  California  Colorado  Connecticut  Delaware  Florida  Georgia  Hawaii  Idaho  Illinois Indiana  Iowa  Kansas  Kentucky  Louisiana  Maine  Maryland  Massachusetts  Michigan  Minnesota  Mississippi  Missouri  Montana Nebraska  Nevada  New Hampshire  New Jersey  New Mexico  New York  North Carolina  North Dakota  Ohio  Oklahoma  Oregon  Pennsylvania Rhode Island  South Carolina  South Dakota  Tennessee  Texas  Utah  Vermont  Virginia  Washington  West Virginia  Wisconsin  Wyoming