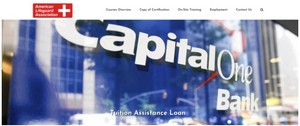 American Lifeguard and Safety Training™ Tuition Assistance through Capital One
American Lifeguard and Safety Training™ offers Tuition Assistance in partnership with Capital One
Explore our Tuition Assistance option for your American Lifeguard & Safety Training™ class fees with the American Lifeguard Association®. If you're 18 years or older, you can apply for a credit line through Capital One, providing instant approval for financing. This line of credit allows you to comfortably manage your class fees over time.
IMPORTANT NOTE: This process should not be done through the shopping cart. Instead, access the provided link below to apply for credit directly with Capital One. Remember, you must be at least 18 years old to qualify for this Tuition Loan Program
For detailed information and to submit your application, please visit https://americanlifeguard.com/tuitionloan/.