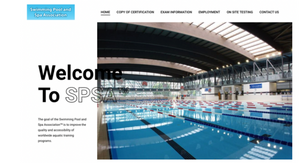 National SPSA™ Pool Operator Challenge Course
We are proud to offer our National SPSA PO Challenge Course, created for those wanting to become Certified Pool Operators. This course is designed to be undertaken at your leisure, allowing you the flexibility to engage with learning at home or a work environment. During the online examination, we provide a proctoring process that can be fulfilled by a parent, legal guardian, or employer. It is mandatory to submit a valid photo ID for both the candidate and the proctor at the time of the final examination. For any guidance required throughout the course, our team is available around the clock to assist you in real-time at alalifeguard@aol.com.
Upon completion, your SPSA PO certification will be valid for three years from the issuance date. Additional information about the course structure and requirements is available below.
We invite both prospective and seasoned swimming pool operators to pursue our certification program to either begin or continue their profession in swimming pool operation.
For individuals seeking to renew their PO certification, we're providing a special renewal rate. Use the discount code "RENEW" upon registration to secure your 3-year SPSA PO certification for $100. Immediately after payment, please email your current or expired PO certification to alalifeguard@aol.com. Our renewal offer recognizes certifications from all national entities.
Swimming Pool and Spa Association (SPSA) offers a challenge course that was developed directly by health departments in accordance with the American Psychological Association Standards for Educational and Psychological Testing. In addition, it is sanctioned by the Swimming Pool and Spa Association which is a nationally recognized swimming pool operators training organization.
Upon registration, you will receive online study materials so you can start the program right away.
The final proctored exam is a timed 50-question multiple-choice test that candidates may take up to one hour to complete. Either your parent or employer must proctor it. Once you have completed the online exam, the proctor must immediately send us an email at alalifeguard@aol.com from their email account. We will need their name, the name of the tester, their relationship to the tester, home or business address, phone number, along with a copy of the student's ID, and the proctor's ID. Candidates must pass with a grade of 80 or higher to receive their PO certificate. The exam is offered only in English, and it is to be taken closed book, with no access or reference to student notes, manuals, or language dictionaries. Proper proof of ID such as a driver's license, school ID, passport, or similar photo ID is required, and candidates must be 16 years of age or older to take the exam.
The student will instantaneously receive the graded PO exam results by email. Successful candidates will have a copy of their actual Swimming Pool Operator's certification emailed to them the very same day. This certification may be used as your temporary certification.  In addition, a waterproof wallet certification card will be mailed out to them the next mailing day. As with all our certifications, you may go online to the Universal Certificate site at http://www.universalcertification.org and verify the validity.
Before starting the exam, you must read and agree to the terms. When you are ready to take the exam, we ask that you use the sign-in link that will be emailed to you along with the password that will be given to you once you have registered here. Access to the online program and exam is available 24/7 through the internet. You need an 80% or higher score to pass. However, it will allow you to retake in case you failed at no additional cost. If he or she fails the exam, the candidate may retake the exam after waiting 24 hours.  Once you pass, you will instantly receive detailed results of your exam along with any questions you got wrong with the correct answers.
In addition, your employer may obtain an authorized provider agreement with SPSA to provide the program for their staff at a discounted price. Because of this, you may want to check with your employer to see if this option is available to you before you register with us. For further information regarding this opportunity have your employer contact us at alalifeguard@aol.com.
Upon successful completion of the final exam a three-year Swimming Pool Operator's certificate will be issued by Swimming Pool and Spa Association.
The SPSA Challenge Course was developed with direct involvement of health departments to allow individuals to challenge the outcomes of the course. In accordance with current codes and regulations, individuals who have acquired the necessary knowledge, skills, and attitudes on the subjects listed below may demonstrate that achievement by taking and passing the SPSA challenge examination. This exam meets the American Psychological Association Standards for Educational and Psychological Testing requirements per codes.
Advantages of the SPSA Challenge Swimming Pool Operators Course:
In-Depth Knowledge Demonstration: By choosing to challenge the swimming pool operators course without formal training, individuals can showcase their existing in-depth knowledge and experience in pool management and maintenance.


Practical Expertise: Those who have hands-on experience in pool operations can directly apply their practical expertise to pass the course challenge, validating their ability to effectively manage pools.


Cost-Efficiency: Challenging the course can be a cost-effective option compared to enrolling in a structured program, as it eliminates the need for tuition fees and the time commitment associated with formal training.


Time Savings: Individuals who are already knowledgeable in pool operations can save time by opting for a challenge assessment instead of going through a structured course, allowing them to prove their competence more efficiently.


Flexibility: Challenging the course offers flexibility as individuals can prepare and schedule the assessment on their own terms, accommodating their work or personal commitments.


Career Advancement: Successfully challenging the course demonstrates a commitment to professional growth and can enhance career prospects by opening doors to advanced pool management roles.


Competitive Edge: Individuals who can prove their expertise through course challenge may have a competitive advantage when seeking employment opportunities, as their knowledge is validated by a recognized certification.


Community Contribution: Those with extensive knowledge of pool management can continue to contribute positively to their communities by ensuring the safe and efficient operation of swimming facilities.


Adaptability: The ability to challenge the course showcases adaptability and the capacity to apply one's skills to different pool settings, whether in public facilities, resorts, or other contexts.


Personal Achievement: Successfully challenging the swimming pool operators course is a personal achievement, affirming one's mastery of the subject matter and the ability to maintain safe and enjoyable swimming environments.


Self-Growth: Opting for a challenge assessment encourages individuals to reflect on their skills, identify areas for improvement, and pursue self-growth independently.

In conclusion, individuals who choose to challenge the swimming pool operators course can leverage their existing knowledge and experience to demonstrate their competence in pool management. This approach offers flexibility, cost-efficiency, and the opportunity to prove one's expertise, ultimately benefiting both their professional aspirations and the communities they serve.
Preparation for the examination involves reviewing the following topics listed below.
Water Disinfection, Process of Water Disinfection, Disinfectant Types and Dosing,  Bromine Use and Disinfection Process, Chlorine Use and Disinfection Process, Cyanuric Acid and Stabilized Chlorine Use, How to Achieve Breakpoint/Super-Chlorination, Hyper chlorination and Procedures, Combined Chlorine and DBPs, Secondary Disinfection - Ozone and UV Light, Water Disinfection Other, Water Chemistry, Water Balance and Contributing Factors, Water Clarity, Importance, Factors that Affect, pH - Effects of High/Low on Bathers and Equipment, pH - Ideal Range, Factors that Affect Level, pH - How to Increase and Decrease Level, Total Alkalinity - Effects of High/Low Levels, Total Alkalinity - Ideal Range, Factors that Affect Level, Total Alkalinity - How to Increase and Decrease Level, Calcium Hardness - Effects of High/Low Levels, Calcium Hardness - Ideal Range, Factors that Affect Level, Calcium Hardness - How to Increase and Decrease Level, Temperature - Effect on Disinfection, Health Effects, Total Dissolved Solids, Effects, Water Treatment Systems - Types, Water Treatment Systems - Operation, Water Testing Procedures, Water Testing Frequency, Calculation, Combined Chlorine, Water Chemistry Other, Mechanical Systems, Calculations, Conversions, Surface Area, Volume, Circulation, Importance, Factors that Affect, Calculations, Turnover, Flow Rates, Circulation System, Components, Troubleshooting, Flow Meters, Location, How to Read, Main Drains, Importance of Daily Inspection, Gutters and Surface Skimmers, Mechanical System Balance, Circulation Pump, Components, Troubleshooting,  Return Inlets, Filtration, Importance, Factors that Affect, Types of Filter Media, Pressure Gauges, Location, How to Read, Filter Types, Operation, Maintenance, Filtration System, Troubleshooting, Filter Backwashing/Cleaning, When, Steps, Health and Safety Recreational Water Illnesses, Causes, Prevention, How Water Can Become a Source of Illness, The Role of the Operator in Reducing Risk, Methods of Control, Including Chemical Levels, Fecal, Vomit, Blood Contamination Response, Record Keeping: What, Frequency, Accuracy, Chemical Safety, Product Labels, Use of PPE, Entrapment Prevention, VGBPSSA, Electrical Safety, Preventing Electrical Shock, Rescue Equipment, Purpose, Use, Injury Prevention, Drowning Causes and Prevention, Signage and Depth Markings, Barriers, Facility Sanitation, Operations, Relationship with Regulating Agencies, What to Expect at Time of Regulatory Inspection, Demonstration of Knowledge by Operator, Daily or Routine Operations Checklist, Spa and Therapy Pool Operational Concerns, and Imminent Health Hazards or Self-Closures
With all our programs, employers are empowered to evaluate your skills and knowledge in compliance with the Model Aquatic Health Code (MAHC), which mandates pre-service evaluations and ongoing in-service training for all staff members.
If you have any questions or require additional assistance, please feel free to email us at alalifeguard@aol.com. We offer real-time email assistance 24/7. If you don't receive our response, please check your spam folder, as sometimes our emails may get filtered there by mistake.
To register for the challenge swimming pool operator challenge course, please select the "ADD TO CART" option at the top of the page. This will enable you to complete your registration and make an online payment using any major credit card.
Terms & Conditions: We offer a 30-day money-back guarantee on all our national certification programs. To request a refund, simply email us at alalifeguard@aol.com within 30 days of your registration, and we will process a full refund on the very same day. By registering for our programs, you agree to indemnify, defend, and hold our processors and us harmless from any claims that may arise out of or relate to your training and certification.