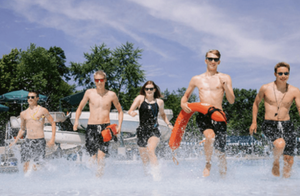 Junior Lifeguard Program for Ages 11-14
American Lifeguard Association's Online Junior Lifeguard Program for Ages 11-14: A Special Program for kids with Emphasis on Safety
The American Lifeguard Association® proudly announces the launch of our new Junior Lifeguard Program, specifically designed for young enthusiasts between 11 and 14 years old. Thanks to a substantial national grant for 2023-24, we are able to offer this program at a significantly reduced cost, making it an accessible stepping stone for aspiring lifeguards.
Exceptional Value: Limited-Time Grant-Based Pricing
This unique program is now available for just $125, reflecting a significant $50 discount from the standard price of $175. This special rate is made possible by the national grant and is offered on a first-come, first-served basis. Early registration is encouraged to secure this exciting opportunity.
Program Highlights
Age-Specific Curriculum: The program is tailored to engage and educate the 11 to 14 age group in lifeguarding basics.
Self-Paced and Flexible: Participants can progress at their own pace, ensuring a comfortable and effective learning experience.
Blended Learning Experience: A mix of video-led instruction and online content caters to diverse learning styles.
Continual Access to Learning Materials: All resources remain accessible for ongoing review, practice, and skill refinement.
Certification of Completion 

 

Upon successful completion of the course, participants will receive a prestigious Junior Lifeguard Certification, valid for two years. You'll instantly get a digital copy via email on the very day you complete the course, and as an added bonus, we'll mail you a durable, waterproof, wallet-sized certification card for easy carrying and display. Celebrate your achievement and showcase your commitment to water safety with these official credentials!

Foundation for Future Lifeguarding: This program prepares participants for more advanced training and certification at the age of 15.
Safety First: Important Information for Parents
The safety and well-being of participants in the Junior Lifeguard Program are our top priorities. As such, we have implemented specific guidelines and safety protocols, particularly regarding in-water activities, to ensure a safe and educational experience:
In-Water Rescue Restrictions: Junior participants are not trained or permitted to perform in-water rescues. This responsibility is reserved for fully trained and certified lifeguards.
Emphasis on Assistance and Preparedness Roles: Our program encourages learning roles in maintaining a safe environment, like aiding in pool area supervision and understanding when to seek professional help.
Focus on Skill Development and Safety Education: The program aims to build a strong foundation in aquatic safety knowledge and lifesaving skills.
The ALA Commitment and National Recognition
The American Lifeguard Association (ALA) is dedicated to promoting water safety and professional lifeguarding standards. Our training, aligned with the latest ECC science and guidelines, is nationally recognized.
Program Enrollment and Satisfaction Guarantee
Easy Online Registration: For more information and to register, simply click "ADD TO CART."
30-Day Satisfaction Guarantee: We offer a full refund for any dissatisfaction within 30 days of registration. You need only to email us at alalifeguard@aol.com to request a refund.
Join Us in Shaping Future Lifeguards
This program is more than just training; it's an opportunity for personal growth, learning essential workplace competencies, and developing leadership skills. Join us in our mission to train the next generation of lifeguards and ensure the safety of our aquatic environments.
We appreciate your trust in the American Lifeguard Association as we guide your child towards becoming competent and confident in water safety and lifesaving skills. Welcome to the journey of nurturing the future guardians of water safety.
American Lifeguard Association's Junior Lifeguard Online Course: Water Safety Awareness and Introduction to Lifeguarding
The American Lifeguard Association (ALA) is excited to offer an enriching and comprehensive Junior Lifeguard Online Course, specifically designed for young enthusiasts. This course focuses on water safety awareness and provides an introduction to the lifeguard profession, entirely through an online format.
Steps to Complete the ALA Junior Lifeguard Online Course
1. Review All Video Clips and Online Materials
Upon registration, we will email you links to our online training videos, along with access to Lifeguard with CPR/AED and First Aid reference materials. These resources, a result of extensive research and development, feature current life-saving instructional skills and are your virtual instructors. They cover various skills and techniques essential for understanding CPR/AED and First Aid. It's crucial to become familiar with and capable of performing these skills.
2. Complete the Final Exam
After you are confident in the skills learned from the videos and materials, you'll take the final online exam. This requires an 80% or higher score for successful completion. You can review the online materials anytime, and there's no time limit for the exam. However, it must be completed in one sitting. If you don't pass initially, you can retake the exam with no additional fees. Upon passing, you'll receive a full score report, including correct answers to any questions missed, for further review and understanding.
3. Final Step: Certification and National Verification
Once you successfully complete the program, you will receive an email confirmation. Your records will be updated in a national verification system immediately. Although designed for educational purposes, you will receive a "Junior Lifeguard" title, highlighting your commitment and knowledge in water safety. The certification is valid for two years.
Verification and Documentation
You will receive digital certification via email on the same day you complete the program.  A waterproof, wallet-sized certification card will be mailed to you the next business day.
30-Day Money-Back Guarantee
The American Lifeguard Association (ALA) is dedicated to delivering training that is both accessible and affordable. To demonstrate our commitment to your complete satisfaction, we offer a 30-day money-back guarantee. If, for any reason, you're not fully satisfied with our training, simply send an email to alalifeguard@aol.com within 30 days of your registration, requesting a refund. Rest assured, your refund will be processed on the same day as your request.
Enrolling and Completing the Training
You can enroll at any time and complete the course at your own pace, whether in a few days or over a weekend. It's important to consult with a professional if you have any medical conditions or disabilities before participating in practice sessions. The course not only teaches about lifesaving skills but also focuses on injury prevention, surveillance, and victim recognition.
The ALA Junior Lifeguard Online Course is an excellent opportunity for young individuals to gain valuable knowledge in water safety and get a glimpse into the world of lifeguarding, all from the comfort of their home. Join us in promoting safety and preparedness in aquatic environments
SKILLS COVERED IN THE PROGRAM
SWIMMING SKILLS
If you can answer yes to the following questions about the swimming test, you will pass this portion of the Shallow Water Lifeguard certification requirements.
Can swim 100 yards continuously.

Can tread water for one minute without the support and without stopping, using only your legs. Your hands will be placed under your armpits. The head must remain above the surface of the water. Both hands must stay under your armpits; you can't do any sculling. Your body position must be near vertical, not horizontal. Considered proficient if you swim rather than tread or if your mouth sinks below the surface.
RESCUE SKILLS
Slide-In Entry

Stride and Compact Jumps

Rescue Approach—Front Crawl or Breaststroke

Simple Assist

Extension Assist from the Deck

Reaching Assist with Equipment and

Throwing Assist

Swimming Extension Rescue

Active and Passive Drowning Victim Rear Rescue

Two-Person Removal from the Water

Using a Backboard

Passive Submerged Victim—Shallow Water

Multiple-Victim Rescue

Feet-First Surface Dive

Submerged Victim—Shallow Water

Front and Rear Head-Hold Escape
CARING FOR HEAD, NECK, OR BACK INJURY SKILLS
Manual In-Line Stabilization for a Head, Neck or Back Injury on Land—Lying

Down, Sitting, or Standing

Using a Backboard for a Standing Victim on Land

Head Splint Technique—Face-Up Victim, Shallow Water at or Near Surface

Head Splint Technique—Face-Dow Victim, Shallow Water at or Near Surface

Head and Chin Support—Face-Up Victim, Shallow Water at or Near Surface

Head and Chin Support—Face-Down Victim, Shallow Water at or Near Surface

Head Splint Technique—Face-Up Victim, Shallow Water at or Near Surface

Head Splint Technique—Face-Down Victim, Shallow Water at or Near Surface

Head and Chin Support—Face-Up Victim, Shallow Water at or Near Surface

Stabilization for a Submerged Victim—Face-Up, Face-Down or on One Side

Using a Backboard in Shallow
CPR/AED FOR THE PROFESSIONAL RESCUER SKILLS
Removing Gloves

Initial Assessment

Rescue Breathing—Adult, Child, and Infant

Using a Bag-Valve-Mask Resuscitator—Two Rescuers

Conscious Choking—Adult, Child, and Infant

Unconscious Choking—Adult, Child, and Infant

CPR—Adult, Child, and Infant

Two-Rescuer CPR—Adult, Child, and Infant

Using an AED—Adult, and Child
FIRST AID SKILLS
Secondary Assessment

Controlling External Bleeding

Applying a Sling and Binder

Applying an Anatomic Splint

Applying a Soft Splint
If you wish to enroll and start your training right away and can be completed anytime, we ask that you click the "ADD TO CART" button. Once you have made the payment, we will send you a confirmation email with instructions on how to complete the national certification program. Remember that we offer a 30-day money-back guarantee that you need only to email us and request a refund if for any reason you are not completely satisfied.
If you are searching online for Lifeguard Classes Near Me,  Lifeguard training Near Me, Lifeguard Online Courses,  Lifeguard Certification Online, Lifeguard Training and Certification, Lifeguarding Classes, Lifeguard Training Courses, Lifeguard recertification, Lifeguard instructor classes, then you came to the right place.
If you have any questions about the registration process or problems completing the program, please email us at alalifeguard@aol.com. We monitor our incoming emails 24/7 and we will reply in real-time. You may read more by visiting our home page at https://americanlifeguard.com.
Click on "ADD TO CART" at the top of the page to register.
Alabama, Alaska, Arizona, Arkansas, California, Colorado, Connecticut, Delaware, Florida, Georgia, Hawaii, Idaho, Illinois, Indiana, Iowa, Kansas, Kentucky, Louisiana, Maine, Maryland, Massachusetts, Michigan, Minnesota, Mississippi, Missouri, Montana, Nebraska, Nevada, New Hampshire, New Jersey, New Mexico, New York, North Carolina, North Dakota, Ohio, Oklahoma, Oregon, Pennsylvania, Rhode Island, South Carolina, South Dakota, Tennessee, Texas, Utah, Vermont, Virginia, Washington, West Virginia, Wisconsin, and Wyoming